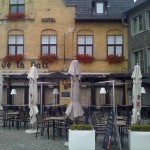 So, our final destination before we head back to the UK after over 8 months of travelling is Hotel de la Paix in Poperinge near Ypres in Belgium.  We have a two bedroom suite with a little roof terrace and the little hotel adjoins the restaurant and bar of the same name on the main square.  The restaurant has a lovely outside quiet terraced area overlooking the garden at the back where we've had a lot of meals and drinks.
Here's what we've been up to:

Saturday – Derek and I drove into Ypres for coffee and a look around the market, Tourist Info and The Menin Gate.  Bought pork and potatoes for roof terrace lunch – Danny and Brittany arrived and polished off the leftovers.  Had a lovely long meal in the evening sitting outside under a huge umbrella when it rained later on.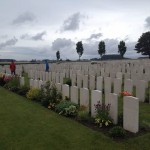 Sunday – The Lycra clad three went off for a bike ride and got soaked in the morning.  Once dry, they went to Tyne Cot cemetery though Barb stayed put to watch Federer v Djokovic.  Chinese restaurant for supper.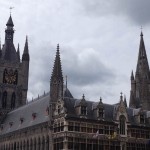 Monday – We all cycled into Ypres via Brandhoek cemetery.  Tried the traditional Flemish stew for lunch and watched visiting choirs and bands in the sunshine. Cycled home – Barb got tired, hit kerb and fell off.  Undeterred, we went back into Ypres in the evening to watch the ceremony at the Menin gate – lots of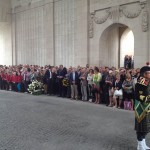 tissues. Late supper at our favourite table of croque-madames and soup.  The beer drinkers have tried nearly all the beers on the hotel's extensive list.  We saw hops growing locally and Poperinge has a hop museum – we now know that it is an important centre for beer.  A big festival here today – parade, crowds, fireworks . . .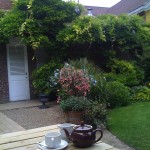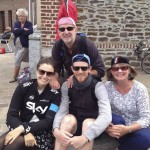 Tuesday – The Lycra clad three were off again on a ride so Barb went to visit Talbot House – a museum/guest house, chapel and garden that was a centre for recreation and reflection during WWI.  You get tea and cake just like the soldiers did.  After another terrace lunch from the lovely Spar supermarket next door, we drove to Boeschepe just across the border in France to watch the Tour de France riders flash by on stage 4.  We had a great view!