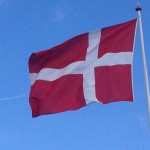 The title sounds like something out of Game of Thrones but it was in fact our Sunday drive from Germany to Denmark – and what a nice drive it was.
We left around 10.00, stopped for diesel, and the then headed north on the A1 towards Puttgarden.
We had booked a ferry crossing over to Denmark using the roll-on roll-off ferries that form part of this motorway. In fact the ferry takes trains as well.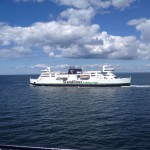 We arrived early, went through the self service check-in and waited in line 3. In a matter of minutes we were boarded, ushered off the car deck and were sailing. It must be the fastest loading of a car ferry ever. Forty five minutes later we were in Denmark, driving towards Kobenhavn.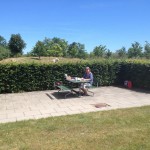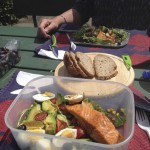 Barb had made a picnic lunch and as the weather was particularly nice we stopped at a picnic area. A real wow of a lunch – salmon salad, tea and fresh fruit.
The last part of the drive was very straightforward and we arrived at Cottage Farm B&B by mid afternoon – in time to check in, set up the bikes and go for a little explore.
The room here is quite small but does have a fridge and microwave so we are still able to feed ourselves and not resort to restaurants. Barb had prepared supper in advance which heated up nicely and we sat outside on the wooden decking/patio feasting on spicy chilli, sour cream and nachos. The Danish beer finished off a treat.
Tomorrow we shall set off in search of Kobenhavn.