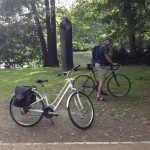 In between making calls to Volvo Assist and researching car rental, we've done some enjoyable stuff in these last two days in Germany. Derek has started both days with a 25 mile bike ride. Yesterday afternoon we took the bikes into Berlin on the train and explored the Tiergarten – we had the usual park bench picnic lunch and also found the Sony Centre on the way back.
Berlin has all the usual big city issues and more than the usual number of building projects but there's certainly plenty to see and its history is remarkable. As usual, people have been friendly and helpful and happy to speak a bit of English.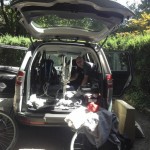 We spent our final day based at the hotel, packing up – we had lunch in the garden followed by a walk around the lake and a final bratwurst for tea. It's been really warm and sunny today so the Germans like to get naked. We'd seen quite a few people stripping off for a swim in the lake but today there were bare bums and wobbly bits everywhere.
An early start tomorrow – we have to drive 550 miles!