We spent Monday catching up with work and put in a good shift until 2.00. After lunch we set off for a bit of an explore in the Volvo to try and get to know the area.  We wanted to checkout the train station, find the river and track down the other supermarkets in Cartaxo.
The station was easy – free parking, regular trains into Lisbon and a helpful ticket office who explained the ticketing system despite having no English.  We saw our first stork, nesting high on a chimney stack (later saw one on top of a palm tree!).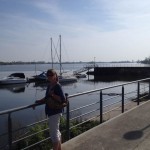 The river at Valverde was stunning – much wider than we had anticipated and all set up for visitors. Again, lots of parking, a cafe, a river beach, boats and an elevated walking route.
The supermarkets at Cartaxo were more elusive – in short – we couldn't find them so gave up and came home for tea and cake.  We'll try again!!
Monday evening was spent making final plans for our assault on Lisbon. The first time we will be in a big city for ages.