It's our last week in the south of France – this time next week we'll be in Spain and Derek will be reaching for a glass of Rioja rather than a Languedoc red.  We're planning a quiet week re-visiting some of the things we like best, doing a bit of maintenance (I'm getting my hair cut, Derek's getting his bike serviced) and planning the next stages of our trip.
We'll be in Spain in a villa between Valencia and  Alicante for the whole month of February – Julia and Martyn are coming to stay for a week and so are Danny and Brittany.  In March we are driving into Portugal – the first two weeks in the Algarve and the second two weeks further north near Lisbon.  Our plans for April involve much more moving around and at the moment include 7 different bookings!  We'll basically be in Spain and Mallorca where Derek is hoping to meet up with the Shipston Cycling Group who are having a cycling holiday over Easter.
At the end of April, we will be driving back into France and have re-booked La Grange where we started – it was such a nice house and we will need a month staying in one place to recuperate!  For the last week of May, we have arranged to go to Guernsey to stay with John and Rachel and from there we hope to head up to Scandinavia for June.  If all is well, early July will see us in Belgium for a bit of the Tour de France.  We will have to return to the UK after that as the Volvo's MOT runs out!  We will need somewhere to stay in the summer so if anyone would like a house-sitter, please let us know!
Things we have loved about Pezenas:
The weather – it's definitely winter here but you see some blue sky and sunshine almost every day – it really lifts the spirits to be outside so much.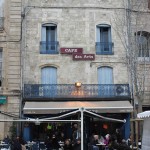 Food and drink – lovely coffee in Café des Arts, cheap prawns (9 euros a kilo), apricot tarts, Picpoul de Pinet wine, French bread, free parsley at the market, pains aux raisins, fresh dates, lovely local wine at 3 euros a bottle  . . . .
The festive season – doesn't start until just before Xmas but goes on throughout January – all the Xmas lights still up and special cakes in the patisserie every weekend for 'la fete des rois'.
The views – Coteau Moliere is high up and has lovely views, cycling higher up into the vineyards is just glorious.
The sea – love the sound of the waves and the walks along the stretches of sand.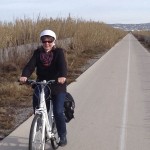 The cycling – Derek has done rides up to 80k and thinks it's cycling heaven – Barb is still learning but has conquered a few hills.
Wifi and TV – we've been able to keep up with British radio and telly as well as work on clients' websites.
Things we've missed:  Bonnie, going to the theatre, Waitrose muesli and teabags, Murray Mints, seeing animals in the countryside . . .