December 29th – our second visit to see MHR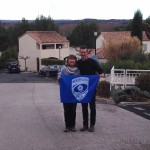 After a long Sunday morning ride (35 miles), we return to shower and eat and then head to Montpellier to see the game against Biarritz.
There are some big names on show – Harinordoquy, Yachvili, Trin-Duc, Nicholas Mas, and a few exiles – Jim Hamilton, Magnus Lund, Aled Brue and Takudzwa Ngwenya.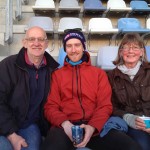 The weather is again excellent for fast open play and the game doesn't disappoint. Lots of excitement, numerous tries and a great atmosphere in the stadium.  Barb even gets to do a Mexican Wave for the second time in her life!
We are even treated to a great view of Jim Hamilton's bum in the closing minutes as they go for driving maul to secure 50 points.  Sadly the maul is pulled down – as were Jim's shorts.
Back home via the tram and peage – we are all tired but still manage more food and a few beers!