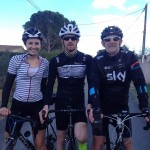 Derek and I have got a good few miles under our belts in the near three weeks I have been here. From an Xmas Day blowing away of the cobwebs to a longer 60 mile ride taking in the hills, dodging boar hunters and scoffing jam sarnies, we have covered quite a few of the local routes.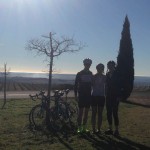 In our week as a group of three we have battled the infamous headwinds and tackled La Roquette; our reward – views as far as the snow capped Pyrennes. We have even survived a bit of gear trouble solved basically by giving the bike a clean. Into our last week now, we plan a final couple of rides, a short one just to keep the legs turning and then one last long one. Britt has already expressed her desire to break her 'longest ride' record so we will be packing extra sarnies and hoping for a friendly tail wind.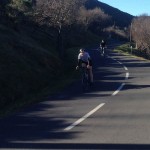 Final update: a 42 mile route with two steep climbs today – Britt smashed her distance record and finished with a flourish battling up the Castelnau hill on our return. Our next group ride will be back in UK later in the year.