A fabulous sunny day in North Holland and it's Friday so we are planning to visit the world famous Alkmaar Cheese Market!
From 10.00 until 12.30 huge slabs of Dutch cheese are checked, tasted, sold and weighed and then transported to local wholesalers. All this in a time honoured tradition that looked quite bizarre!
However, Alkmaar turned out to be a delight. Perhaps because of the weather but mostly because it was a bit of a wow.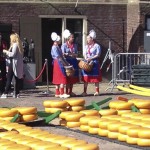 We cycled from Bergen to Alkmaar, wandered through the first phase of shops and parked the bikes with hundreds of others. We soon discovered the cheese market. Not sure I can describe the goings on – perhaps the photos will help.
Basically, it was a wholesale cheese market where producers sold their cheese to wholesalers in a sort of ritual pantomime. Anyway – we enjoyed it and relaxed in the middle of this very popular tourist attraction.
Afterwards we strolled through the traffic free streets, found the Beatles Museum (didn't venture in) had mid morning coffee and then decided to take a canal boat ride.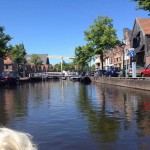 This was a 50 minute cruise around the canals of Alkmaar which, I have to say, was very very enjoyable. There was a good commentary in 3 languages, a boat full of tourists and simply delightful canals. However – we hadn't bargained for the touch of comedy.
There were several nationalities on board – mostly German who were intent on enjoying themselves- good for them. As it was June 6th, I was tempted to bring up D-Day but decided not to spoil their fun. The boat went through a series of ever lower tunnels under bridges until we reached a point where we had to virtually lie on the bottom of the boat. The Germans seemed to enjoy this and started to become hysterical. This was quickly ended when a passing seagull scored a direct hit on some of them and covered them in bird sh*t. Obviously an allied seagull!!
We did get some nice photos however and on our return had lunch in the main square where the cheese market had been in full swing.
Another stroll through the shops – a gentle bike ride back to Bergen and home for tea.
Just so you don't think this was all pleasure dear reader, we then did an hour of work updating a couple of websites and fixing some technical issues on others.
Off to the shops for more food (we bought a cooked chicken in Alkmaar for tonight's supper) and a walk through the leafy lanes.
We still can't get the hang of the local supermarket, Deens. When we first shopped we were told – no credit cards – cash only. Today we went through a lane that only took cards – but not ours!! That was fun – trying to pay cash in a card only lane.
Anyway – we think we have this under control now.
Back at the apartment we have the chicken and salad followed by fresh fruit and slagroom (cream). Well, this is Amsterdam! There are some great rude words in Dutch. Lots of slags, winkels and diks! A schoolboy's dream!
This was a bit of a holiday day. It didn't start off that way but we are definitely in the holiday mood. This is a long bank holiday weekend in Holland. The weather is set fair so I don't think there will be much website work done until Tuesday when I have a dental appointment. Oh joy!