We drove an hour north on a gloriously sunny Saturday afternoon past Benidorm and Alicante to meet Ju and Martyn at Alicante airport – they were a little delayed so by the time we got back to the villa, the sun had nearly gone and it was time for supper.
The weather was a bit cloudy early in the week but we had some nice walks (including down to the area which caught fire) as well as lunches out at La Piscina in Parcent and a beachfront cafe down in Denia.  Both lunches were an all inclusive price of about 10 euros each and very good value with nibbles, bread and aioli, giant salad starters, meat or fish for main, dessert and coffee, even wine and liqueurs!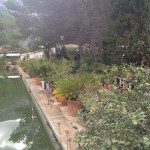 As forecast, the sun returned on Wednesday when we had a really nice walk on the beach and around the marina area of Denia.  With feet hot from walking, we dipped our toes into the pool when we got back to cool them down.
We've done a lot of sitting about chatting, drinking tea and eating cake – we've also followed the Winter Olympics, especially the curling.
Nature notes: The wisteria is starting to flower outside the kitchen and I shared the shower with a tiny baby gecko yesterday.  We saw processional caterpillars with potentially toxic spines on the path on the hillside and Julia spotted red squirrels in the garden.