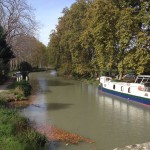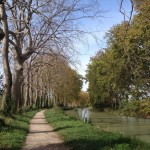 We bought a lovely guide book about cycling along the Canal du Midi and thought we might do some of it in stages, picturing ourselves like the couple in the Saga ads, rolling along beside the canal in the sunshine.  We tackled two different bits – east from nearby Marseillan towards Sete yesterday and just west of Beziers at Colombiers today, hoping to get to Poilhes.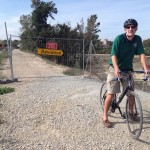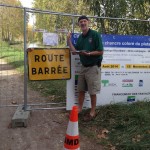 At its best, it was lovely but the paths vary from quite rough to extremely rough and, although my bike copes ok-ish, Derek's tyres are way too thin.  It's bumpy and you spend too much time watching the ground.  The biggest problem though is that we keep coming across sections that are closed with diversions involving 4k detours or almost vertical down and up slopes.  Hugely disappointing and annoying.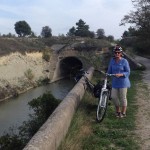 Last year we got stuck at the Malpas Tunnel so we were delighted to find our way around it this time with the help of the lady in the Tourist Office but a couple of kilometres further on, we hit a 'Route Barree' again (which she had failed to mention!)
We made the best of it all and did enjoy both days but if we're going to tackle the Canal du Midi again, I think we'll get a boat.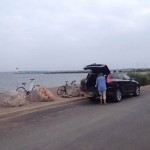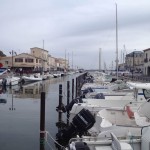 Marseillan and Colombiers are both nice little towns and cycling along the shore line yesterday suited our bikes better.  We had picnic lunches both days – picked up a nice sandwich and pain aux raisins from the boulangerie at Les Rodettes today.