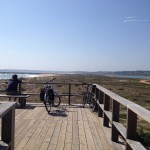 Yesterday's stroll along the boardwalks at Gale was lovely so we decided to drive just the other side of Portimao to the Alvor estuary where the views from the boardwalks were said to be stunning.  It did not disappoint and will probably be one of the most memorable highlights of this trip.  The weather is perfect which helps of course.  We took the bikes and started off with coffee and pastel de nata in a beachside cafe and then cycled along the flat boardwalks with the river estuary and harbour on one side of us and the Atlantic Ocean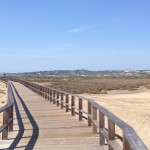 on the other.  The views were very reminiscent of Bermuda with beautiful colours and lovely beaches.  Our photos don't do it justice at all as it's impossible to convey the 360 degree loveliness of it all.  We spent hours cycling around, locked the bikes up a few times and walked and paddled and just sat.  Fantastic.
On the way home we stopped to buy a bag of oranges from a roadside seller – a huge bagful but Derek eats a couple every day so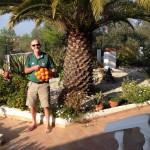 he'll soon demolish them!  Back at the villa, we had a cup of tea by the pool – wow, this is the life!!  What a shame we've only got two more days here in The Algarve.