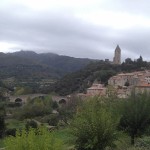 Yesterday was cloudy and chillier so the sweatshirts got worn for the first time in a long while.  We drove up towards the parc naturel du Haut Languedoc and the 'black mountains' that we can see from our kitchen.  We stopped in Bedarieux for coffee and a visit to Tourist Info to get some maps of the voie verte (green way) called the Passapais – a flat route designed for walking and cycling.  We parked at Mons and cycled to Olargues – a real beauty spot – and a bit beyond for a picnic lunch. It was a lovely ride – it's a pity it isn't closer.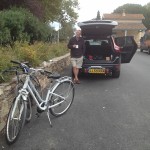 We were really spoiled in Chevanceaux where the greenway was on our doorstep.
We did our two favourite local walks last week – the Via Domitia and the circuit de St Antoine and we've got some more ideas for further routes.  We've also bought a guide book to the Canal du Midi so we're hoping to do some sections of that too.
Derek cycled 45 miles this morning including La Roquette – otherwise a quiet day at home doing some cooking, laundry, car cleaning, tidying, emails, invoices etc. Oh, yes – and preparing our annual accounts for the taxman – always a pleasure.