Derek started the day with a bike ride so I caught up with a growing pile of laundry as well as a phone call to Mum and some reading about Sweden.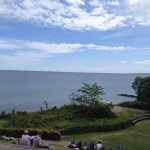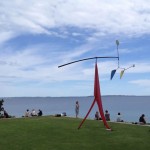 Another lovely sunny day so we set off in the car to drive up to Humlebaek to the Louisiana Museum of Modern Art. It is Denmark's most visited art gallery with a fabulous setting overlooking the Oresund strait. The original owner of the villa had three wives, all named Louise – hence the name! Interconnecting glass pavilions were added to the villa and the galleries are now landscaped within an outdoor sculpture park – with fabulous views over the sea looking towards Sweden.
We had lunch first – a set price buffet which you could wander back and forth to and which included cold dishes like melon soup with mint oil, beef carpaccio, prawns and salads and then hot roast chicken with potatoes and onions. We sat outside overlooking the water – a real treat!!
The modern art inside was as usual a bit wild, wacky and often ugly but the gallery itself was beautiful with cleverly framed views of the outside wherever you turned. A really good day out!
Tonight, we'll just be having some cheese and crackers on the patio watching the swallows diving in and out of the thatched courtyard and listening to the gentle rumble of planes coming in and out of Copenhagen airport which is close by.
We plan to take the bus into Copenhagen again tomorrow.