Saturday morning – we can see why Northern Europeans flock to the Algarve for the winter.  It's sunny and warm again and all very relaxing. There are no pressing jobs to be done, work wise we are pretty much up to date and a stroll into Guia is called for.  In the short week we have been here it's clear that there are hundreds of couples like us from Holland, Germany, Scandinavia as well as the UK. In the town we sit and have coffee – order in English – and listen to the range of voices from all over.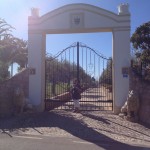 On the way into town Barb spotted a hairdressers.  Unlike me she needs a trim! Carla, the owner, speaks English and an appointment is made for 12.00 so after coffee and a long sit we head back to the villa.  Barb diverts in to see Carla and I head home via Sir Cliff's. On the way in we took a few touristy type photos – well, you have to sometimes.
I do a few bits of website management and chat to Danny via text. Barb arrives back with perfectly trimmed hair.
After lunch we do an hour's work on a new website we are building and then it's off on the bikes for a potter about Galé. The bikes are loaded into and onto the Volvo and we drive for just 15 minutes to the coast.
We explore the Salgamundo resort – a huge hotel, suite andapartment complex with its own golf course.  It's beautifully maintained and, at the moment has been taken over by Mercedes Benz for a corporate event. Everywhere we go we see new shiny expensive German cars in fast moving convoys. We are talking 20-30 cars at a time here. At the resort the whole place had been decked out with posters and flags displaying the the Mercedes brand. There seems to be no lack of money here and the resort itself looks very stylish and expensive. There are however a number of half finished building projects around and the roads are in poor condition. A sign of the economic downturn I think.
We stumble upon a nature reserve beyond the resort and ride along a network of wooden boardwalks that have been built over the dunes. Lots of bird watching and photography going on and a number of hides are evident.  The boardwalks end at a site that us still being developed so after a quick look at the sea – quite rough today – we cycle through a building site taking care not to fall off!
After a short ride we are back at the pastelaria for more tea and cake – well, we've earned it.
Back at the villa we clean the pool, read, catch up with the day's sport – Spurs are thrashed again – and eat supper – the curry Barb made yesterday.
The end of another long day slips away with us both glued to our iPads.