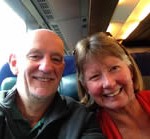 A nice slow start to the day – this short visit to Lund has allowed us to slow down a bit after trekking around Amsterdam and Copenhagen.   It's mid-summer day but quite chilly – we keep forgetting that we're quite far north!
A short walk to the train station and tickets to Malmo – 96 Swedish kroner or about 10 quid  – that's one way for the both of us. We are on the 11.01 and it takes about 10 minutes.
The train finally departs at 11.41 – there are aliens on the track ahead and so departure is delayed. However – a quick 10 minute train journey and we emerge from Malmo's new modern train station. Amazingly there is not much building work going on!!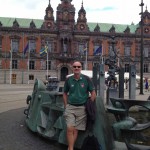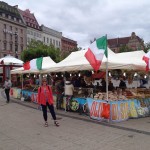 We stroll up to the main square  – remembering it's a public holiday. There is an Italian market with lots of mediterranean produce at exorbitant prices. We don't linger and head for the nearest coffee shop – Expresso House – Sweden's answer to Cafe Nero. Fortified with cappuccino and muffin, we wander around the streets of Malmo and on to the parks – Malmo is very proud of its parks – and rightly so.  They are delightful wide open spaces with canals and gardens all beautifully laid out. We have a simple picnic, chase off the ducks and wander some more.  We catch a glimpse of Scandinavia's tallest building, Malmo's Turning Torso.  Our guide book says it's 'breathtaking'.  Hmmm.
Eventually, back in the main square we try to have tea but fail – only fruit teas – Barb risks a black tea with mango, citrus and other stuff  – I stick with cappuccino.
The train home is uneventful and we pick up provisions at the local Morrisons for a night in watching the Germans!! Back at the B&B we heat up some pulled pork which we plan to have with bread and salad.
A very laid back day but just right – we have a 160 mile drive tomorrow to Gothenborg – our trusty Volvo XC90 workhorse is going home!!